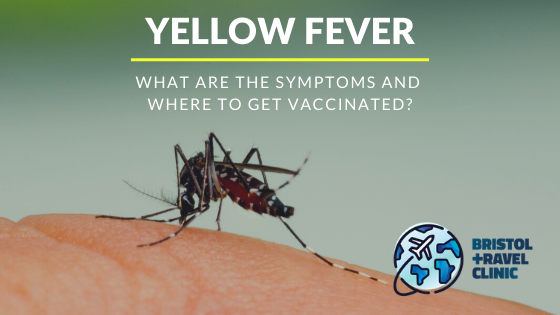 Yellow fever is a severe infection spread through the bite of mosquitoes that will mainly bite people during the day. The mosquitoes that carry the virus are typically found in rural jungle areas and urban town environments. They are particularly common in the rainy season.
Areas with a high risk of yellow fever are as follows:
Most of Sub-Saharan Africa
Most of South America
Parts of Central America
Parts of the Caribbean
Signs & symptoms Of Yellow Fever
The first symptoms of usually develop 3 to 6 days after being infected and include:
Fever
Headache
Nausea or vomiting
Muscle pain and backache
Eyes being sensitive to light
Loss of appetite and feeling generally unwell
A few people do develop more serious symptoms where, sadly, up to half of them don't survive. It is therefore essential to seek medical attention immediately when symptoms appear such as:
The word "yellow" in the name refers to jaundice that affects some patients.
Treatment For Yellow Fever
There is currently no cure for yellow fever and patients with serious symptoms must be monitored and treated at the hospital. Seek urgent medical attention without delay if you suspect you have been infected.
Yellow Fever Prevention
The yellow fever vaccine can stop you from getting infected if you're travelling to an area where the infection is prominent. It is a safe, affordable, single-dose injection providing life-long protection against the disease meaning you won't usually need a booster dose or a new certificate if you have been vaccinated before.
The vaccine is recommended if you are travelling to:
an area where yellow fever is found
a country that requires you to have a certificate proving you have been vaccinated against the disease
Where Can You Find Your Bristol Yellow Fever Vaccination Centres?
The vaccine and certificate are only available from designated yellow fever vaccination centres like the low-cost Bristol Travel Clinics Kellaway and Bedminster Pharmacies.
You need to have the vaccine at least 10 days before travelling to give it enough time to work. Your certificate will only be valid after this time. Some countries near areas where yellow fever is found may require proof of vaccination when visiting, even if there's no risk of contracting the infection in these countries.
To find out if yellow fever is a risk where you're travelling to or if the country you're visiting requires a vaccination certificate, please contact us. The jab is not usually given for free on the NHS, but we offer the lowest cost service with a price match promise.
Related: 'Need Travel Medicines And Vaccinations?'
Yellow Fever And Mosquitoes
Even though the yellow fever vaccination protects you against the virus, it's essential to take precautions to reduce the risk of getting bitten and contracting other diseases spread by mosquitoes. These include dangerous diseases such as Malaria and Dengue fever.
Here is how you can can reduce your risk of being bitten by mosquitoes:
use insect repellent – products containing 50% DEET are most effective, but a lower strength (15 to 30% DEET) should be used on children. Alternatives to DEET should be used on children younger than 2 months
wear loose, but protective clothing – Trousers, long-sleeved shirts, and socks and shoes (not sandals) are best
sleep under a mosquito net – ideally one that has been treated with insecticide
Avoid areas near stagnant or non-flowing water as these are breeding grounds for mosquitoes
Side effects
Common side effects after vaccination include soreness at the injection site, a mild fever, headache and pain. While serious side effects from the yellow fever vaccine are rare, you must be aware of them. Your Bristol Travel Clinician will discuss these with you in more detail.
Important Advice About Getting Vaccinated
You need to have the vaccine at least 10 days before travelling to give it enough time to work. Your Yellow Fever certificate will only be valid after this time, and some countries will not allow you to enter if you do not have valid proof of vaccination. If you have previously been vaccinated but lost your certificate, we can still help to reissue. Just get in touch on our website or give us a call on 08007723575.
Our low-cost service, provided by NHS professionals, is designed to provide Yellow Fever vaccination and all other travel vaccination. This includes any antimalarial medications also at the lowest cost. Charity, School Group and NUS discounts offered at all our locations across Bristol, and South Glos also help bring the price down even further. Call us free today or request a callback so we can discuss all your needs.